New generation of SMART Series products by PEParab.
Applicable for small and medium to high performance controls.
Designed based on the combination of technologies such as computers, controls, communication, and signal processing together with the vast in-field project experience and knowledge in automation and control implementation.
Versatile is the key features in SMART Series providing customized solutions and application suitable for various industrials.
It is best suited for logic control, sequence control, process control and transmission control
The SMART Series consists of the integration of various kinds of modules, such as CPU, Communication, I/O, or Special Function on the backplane forming a complete controller unit.
The controller itself is modular and the system architecture is expandable.
SMART Series has been developed with the requirements of their users in mind and as such has an unprecedented level of modularity integrated in to their design concept. this allows all functional units like CPUs , Fieldbus interfaces or power supply modules to fit exactly to the application requirement without additional costs being passed on to the customer – an expanding palette of plug-in analog , digital and communication modules provide standard sensor interfacing to these SMART Series.
The features provided by the SMART Family help to bring a clear automation structure to any given application with the added consequence of reduced planning, assembly and installation costs. This is fact is the true concept behind the SMART series Family when considering the pre-production of Plant modules each controlled by these SMART Family controller. All Plant module functionality can be programmed and tested prior to final assembly there by allowing separate tasks to be engineered simultaneously that helps to reduce project schedule times
SMART IO-CPU
Real-Time Computer
---
OverView

A Controller based on Real-Time Computer Technology
Distributed Intelligent I/O System
Programmable with all 5 IEC1131-3 Languages
Application SW compatible with VME and IUC Systems
Programmable in ANSI-'C'
Embedded Real-Time O/S with Multitasking ability
Reduced Cabling and Maintenance costs
Standard and Extended Operating Temperature ranges

The Smart 1 concept is based on a cost effective open system for industrial automation and real-time computing.Derived from the PEP VME 3U technology ,SMART 1 is 100% application software compatible with VME9000 and IUC9000 controllers.

 

 

 
DC-DC Converter
Two isolated (1000V DC) 5V Output Channels
Input 18V-36V DC, 24V DC (Nominal)
Outputs 1 & 2 Isolated 5V DC @ 1.2A (system)
Isolated 5V DC @ 150mA (RS485)
CPU
MC68302 @ 20MHz
Memory
EPROM and/or FLASH up to 2 MByte
512 kByte DRAM
64 kByte SRAM with battery backup
Interfaces
Serial RS232 Modem compatible
Isolated RS485 (PROFIBUS) up to 500 kbit/s
SPI/SPC local interface & RTC
Isolated timer I/O with:
Tin (20 kHz),Tout (5 kHz)
Gate (24V DC)
Interrupt Vectors
10ms (100 Hz) IRQ6
24-bit timer IRQ4
Parallel I/O (4 lines) IRQ1
Data Retention
3V, 190mA button lithium cell (standard temperature)
3V, 850mA cylinder lithium cell (extended - E2 temperature)
Software
OS-9 v3.0x real-time kernel (disk-based as standard)
PROFIBUS layer 2 & 7 v.3.12
IEC 1131-3 with ISaGRAF for Windows
Power Consumption
SMART-BASE: 1500/1700mW
PROFIBUS: 250/750mW
SM-slots: <300mW
SMART-EXT: 15/35mW
Operating Temperature
Standard: 0؛C to +70؛C
Extended: -40؛C to +85؛C
Operating Humidity
Up to 95% non-condensing
Cooling
Free-air convection
Housing/Connectors
Housing for DIN-rail mounting
3 slots for SMART-Modules on the SMART-BASE
2 slots for each SMART-EXT
RJ45 for RS232 interface
9-pin D-Sub connector for the RS485 (PROFIBUS) interface
Screw Terminal Connectors
Array 2x3 and 2x7
Mating Cycles 100
Contact Resistance <5m.
Max.Amperage 6A
Operating Voltage <250V
Dimensions (mm) l, w, h
SMART-BASE: 247.5 x 114.5 x 86.8
SMART-EXT: 110.0 x 114.5 x 86.6
Weights
SMART-BASE: 650g
SMART-EXT: 250g
SMART2-CPU
CPU Module for use with PEP's SMART2-Base
---
OverView

The modular concept of the SMART2 system allows configuration flexibility through the use of a selection of plug-in modules.The CPU, equipped with either 512 kBytes DRAM or 1.5 MBytes DRAM, must exist in a SMART2 system and can be configured with one of the plug-in fieldbus modules.

 OEM customers may wish to take advantage of the open-specification of the CPU for custom-specific projects.

 
 CPU

Model

: MC68LC302

Frequency

: 20MHz

 Memory

SM2-CPU-512

: 512 kByte DRAM

SM2-CPU-1.5

: 1.5 MByte DRAM

FLASH

: 1 MByte

EEPROM

: 2 kbit

SRAM

: 256 kByte (data retention via Goldcap)

 Interfaces

RS232

: Modem compatible serial interface (embedded)

  Serial interface available on screw-terminal

SPI/SPC

: Local I/O bus

CMI

: Common Memory Interface for fieldbus modules

 Common

Real-Time Clock

: V3021 with year, month,week, day, hour, min, sec.

LEDs

: CPU Error (red)

 +5V Power (green permanent)

 Bootstrap loader enabled (green flashing)

Power Cons.

: 650mW (typ.); 1W (max.)

Weight

: 52g

Temp. Ranges

: 0ºC to +70ºC

 -40ºC to +85ºC (opt. E2)

 -55ºC to +85ºC (storage)

Humidity

: 5% to 95% non-condensing
SMART PLC Modularity:  a wide range of I/O modules for SMART PLC Family is available to interface the variety of process signals connected with industrial automation or process control.
 The comprehensive range of available modules covers digital I/Os, relay connections, analog I/Os, serial communication and temperature processing interfaces.
With enough potential for up to 14 SMART modules, completely configured Family of SMART I/O systems have enough driving force to equip even the most demanding industrial application with up to 108 digital I/O points.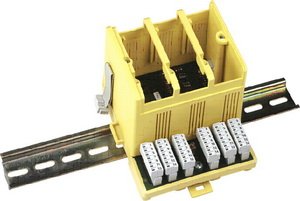 SMART2- Base
SMART PLC system comprise up to five SMART2-Base units depending on the application requirements. Designed as an expandable concept, up to 4 base units, each containing three SMART module I/O slots can be accommodated on the DIN-Rail beside the first or master base unit. Each SMART2-Base, equipped with 3 slots, automatically routes the internal IO –bus and power supply lines to the next base unit. Thus, the complete system can be easily tailored and configured to accept all needed I/O modules. The SMART2-Base recognizes if CPU module is plugged into the first slot of the first unit and if so, performs the role of system master.
The process interface of each slot is composed of two pluggable screw terminal blocks for simple wiring and service handling.

SM-ADC1
SMART-Module with 6 Differential Analog Inputs
---
OverView

PEP ARAB's SM-ADC1 is a high-resolution and optoisolated A/D converter module that supports current or voltage inputs.

The six differential inputs offer high distortion immunity that is important for industrial environments.

An on-board EEPROM stores unique calibration and gain/offset data required by the signal converter.

►      6 differential & optoisolated inputs

►      ±10V DC or 0..20mA input range

►      12-bit ADC with 1-bit non-linearity

►      50µs conversion time

►      Overvoltage protection

 
Input:

Function

:6 differential channels

Input Range

:±10V DC (0..20mA)         

A/D converter:

Resolution

: 12-bit with 1-bit non-linearity

Repeating Accuracy

: 10-bit

Input Impedance

: 450kW (voltage version)

  124W (current version)

Input Filter

: 10kHz

Conversion Time

:  50µs @ 1MHz (per channel)

Overvoltage protection:

Continuous

: ±35V DC

Common:

Isolation

: 1.0 kV optoisolated from the system

Front Panel

: 2 red LEDs (user configurable)

EEPROM

: 256 Byte Serial EEPROM for calibration data

Weight

: 70g

Power Cons.

: 350mW min (LEDs OFF), 450mW max  (LEDs ON)

Temp. Ranges

: 0ºC to +70ºC

 -40ºC to +85ºC (opt. E2)

 -55ºC to +85ºC (storage)

Humidity

: 5% to 95% non-condensing
SM-DAC1
SMART-Module with 2 or 6 Differential Analog Outputs
---
OverView

PEP ARAB's SM-DAC1, available in several different configurations, handles 12-bit DAC tasks with an exceptional repeating accuracy.

The short conversion time of 75µsec (per channel) transforms the SM-DAC1 into a powerful digital/ analog system.

Unique calibration and gain/offset data are stored in an on-board serial EEPROM.

►      2/6 differential & optoisolated analog outputs

►      ±10V DC or 0..20mA output range

►      12-bit DAC with 1-bit non-linearity

►      11-bit repeating accuracy

►      2 user configurable LEDs

 
Output

Function

: 2 or 6 analog channels

Output Range

: ±10V DC (0..20mA)

Output Current

: 2 mA (max.) for the voltage version

D/A Converter

Resolution

: 12-bit with 1-bit non-linearity

Repeating Accuracy

: 11-bit (at constant temperature)

Conversion Time

: 75µs @ 1MHz (-10V ..+10V per channel)

Common

Ext.Vcc

: 24V DC (-10% .. +20%)

Power-on-Reset

: 0V DC (glitch-free) until initialized by software

Isolation

: 1.0 kV optoisolated from the system

EEPROM

: 256 Byte Serial EEPROM for calibration data

Front Panel

: 2 red LEDs (user configurable)

Weight

: 70g

Power Cons.

: 660mW (max. voltage version)

 

  400mW (max. current version)

Temp. Ranges

: 0ºC to +70ºC

 -40ºC to +85ºC (opt. E2)

-55ºC to +85ºC (storage)

Humidity

: 5% to 95% non-condensing
SM-DIN1
SMART-Module with 8 Optoisolated 24V DC Digital Inputs
---
OverView

The SM-DIN1 is a general purpose digital input module.

Designed with 6 independent input groups, the module offers a high level of flexibility when connecting process signals with different potential groups.

►      8 optoisolated 24V DC digital inputs

►      6 independent groups

►      Common GND

►      Overvoltage protection

►      LED channel status indication

 
Input

Function

: 8 digital channels

Organisation

: 6 independent groups with respect to common GND

Input Voltage

: 24V DC ± 10%

Input Current

: < 5mA

Input Frequency

: Default 200Hz (5ms)

Switch ON Delay

: 2ms (approx.)

Switch OFF Delay

: 2ms (approx.)

High Level

: > 10V DC

Low Level

: < 8V DC

Overvoltage Protection

Rate

: 300V/90µs

Continuous

: 35V DC

Common

Isolation

: 2.5 kV optoisolated from the system

Front Panel

: 8 green LEDs (ON when input > 10V)

Options

: User configurable RC filter on the last channel  for INTx generation

Weight

: 40g

Power Cons.

: 5mW (min.), 100mW (max.)

Temp. Ranges

: 0ºC to +70ºC

-40ºC to +85ºC (opt. E2)

-55ºC to +85ºC (storage)

Humidity

: 5% to 95% non-condensing
SM-DOUT1
SMART-Module with 8 Optoisolated 24V DC Digital Outputs
---
OverView

The SM-DOUT1 is a versatile digital output module that simplifies actuator connection.

With a duty cycle of 1:1, it can fully load all channels simultaneously and can switch at a maximum frequency of 1 kHz.

In addition, inductive loads may be driven without damage to the module.

►      8 optoisolated 24V DC digital outputs

►      2 independent groups

►      Common Vcc (high-side switch)

►      500mA continuous output current

►      Overvoltage protection

►      Inductive load protection

►      LED channel status indication

 
Output

Function

: 8 digital channels

Organisation

: 2 independent groups with respect to high-side switches (common Vcc)

Output Voltage

: 24V DC ± 10%

Output Current

: 500 mA (continuous) per channel

Output Frequency

: 1 kHz (square wave)

Switch ON Delay

: 3µs (resistive at 24V DC)

Switch OFF Delay

: 130µs (resistive at 24V DC)

Output 'ON'

: Internal logical '0'

Output 'OFF'

: Internal logical '1'

After Reset

: All outputs OFF

Overvoltage Protection 

Rate

: 90V/10µs

Continuous

: 35V DC

Common 

Inductive Load

: Clamp diode protected

Isolation

: 2.5 kV optoisolated from the system

Front Panel

: 8 yellow LEDs (ON when the output is ON)

Weight

: 70g

Power Cons.

: 5mW (min.), 270mW (max.)

Temp. Ranges

: 0ºC to +70ºC

 -40ºC to +85ºC (opt. E2)

 -55ºC to +85ºC (storage)

Humidity

: 5% to 95% non-condensing
SM-PT100
SMART-Module with 4 Optoisolated PT100 Inputs
---
OverView

The SM-PT100 is used for 2, 3 or 4-wire temperature measurement using PT100 sensors driven by an on-board constant current source.

Capable of connecting sensors measuring temperatures between -200ºC and +850ºC, the SMTHERM uses a fast 16-bit delta-sigma A/D converter that ensures an absolute measurement accuracy of 0.2ºC.

►      2, 3 or 4-wire PT100 sensor inputs

►      Open sensor detection

►      Self calibration (on-board EEPROM)

►      Overvoltage protection

►      2 user configurable LEDs

 

 
Input

Function

: PT100 temperature measurement with 4-wire

connection supported and open sensor detection

Temp. Range

: -200ºC to +850ºC

Temp. Drift

: 1 LSB/ºC (not compensated)

Conversion Time: Typ. 125ms, max. 500ms (depending on filter settings)

Input Impedance

(min.) : 10 MW

Resolution

: 16-Bit

Absolute Accuracy

: ± 0.2ºC (sensor errors excluded)

Calibration

: Self calibration

Linearisation

: By software

Overvoltage Protection

Continuous

: ± 25V (power connected)

± 35V (power disconnected)

Common

Isolation

: 1.0 kV optoisolated from the system

EEPROM

: 256 Byte serial EEPROM for calibration data

Front Panel

: 2 Red LEDs (user configurable)

Weight

: 40g

Power Cons.

: 350mW (min.), 450mW (max.)

Temp. Ranges

: 0ºC to +70ºC

-40ºC to +85ºC (opt. E2)

-55ºC to +85ºC (storage)

Humidity

: 5% to 95% non-condensing
SM-THERM
SMART-Module with 4 Optoisolated Therm Inputs
---
OverView

SM-THERM supports up to four groups of R, S, B, J,T, E or K thermoelement sensors together with a cold-junction for extremely accurate temperature

measurements.

Designed around a fast 16-bit delta-sigma A/D converter, the SM-THERM  ensures an absolute measurement accuracy of 0.2ºC over the complete

operating temperature range of -210ºC to +1820ºC.

►      4 thermocouple input groups

►      One, 2-wire PT100 input for cold-junction

►      Open sensor detection

►      Self calibration (on-board EEPROM)

►      Overvoltage protection

►      2 user configurable LEDs

 

 
Input

Function

: Temperature measurement using thermoelement sensors   aranged in 4 groups

Temp. Range

: -270ºC to +1820ºC

Temp. Drift

: 1 LSB/ºC (not compensated)

Conversion Time

: Typ. 125ms, max. 500ms (depending on filter settings)

Input Impedance

(Min.) : 10 MW

Resolution

: 16-Bit

Absolute Accuracy

: ± 0.2ºC (sensor errors excluded)

Calibration

: Self calibration

Linearisation

: By software

Overvoltage Protection

Continuous

: ± 25V (power connected)

 ± 35V (power disconnected)

Common

Feature

: Open sensor detection

Isolation

: 1.0 kV optoisolated from the system

EEPROM

: 256 Byte serial EEPROM for calibration data

Front Panel

: 2 Red LEDs (user configurable)

Weight

: 40g

Power Cons.

: 350mW (min.), 450mW (max.)

Temp. Ranges

: 0ºC to +70ºC

-40ºC to +85ºC (opt. E2)

-55ºC to +85ºC (storage)

Humidity

: 5% to 95% non-condensing
SM-COUNT2
SMART-Module for 16/32-bit Count-up Operation
---
OverView

Measuring, scaling & counting tasks are a necessity in industrial applications.

To cover the various needs, PEP ARAB offers SM-COUNT2.

The former provides a sophisticated incremental encoder interface with versatile operating modes while the latter possesses two counters that can be cascaded to double the resolution.

►      16/32-bit count-up

►      3 differential optoisolated inputs

►      ±5V,±12V,±24V DC input range

►      300 kHz input filter

►      LED status indicators

 
Input

Function

: Two 16-bit cascadable up counters

Inputs

: One differential Tin input and one differential Gate

per counter; one common Clear

Input Voltages

: 5V DC ± 5%; 12V DC ± 25%; 24V DC ± 25%

Input Current

: 10mA (typ.)

Input Frequency

: Default 300kHz

Switching Level

: 1.55V DC, 6.7V DC and 15.1V DC respectively

Output

Function

: 1 inductive-load protected MATCH output / counter

Output Voltage

: 24V DC ± 25%

Output Current

: 100mA (max.)

Output Frequency

: <100kHz (1:1 duty cycle)

Common

Counter Resolution

: 16-bit (or 32-bit when cascaded)

Isolation

: 2.5 kV optoisolated from the system

Front Panel

: 2 yellow counter LEDs

Weight

: 48g

Power Cons.

: 350mW (min.), 370mW (max.)

Temp. Ranges

: 0ºC to +70ºC

-40ºC to +85ºC (opt. E2)

-55ºC to +85ºC (storage)

Humidity

: 5% to 95% non-condensing